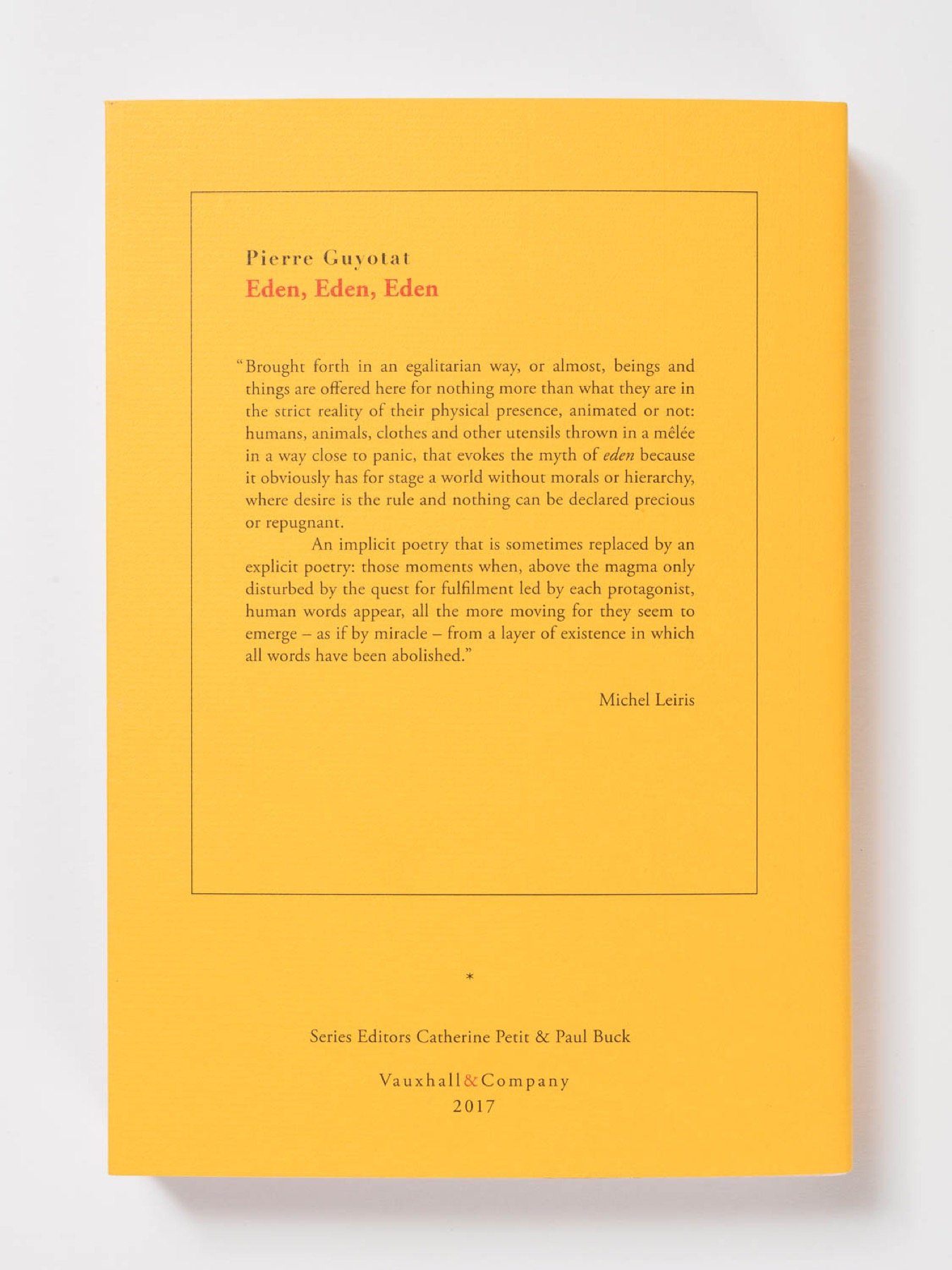 ❮ ❯
First published in France in 1970, immediately greeted by both furore and acclaim, today Eden, Eden, Eden is recognised as one of the major works of the last century.
This edition is a much-revised translation of the out of print English version originally published in 1995. It also includes new translations of the original prefaces by Michel Leiris, Roland Barthes and Philippe Sollers, plus a postface by Paul Buck.
"Brought forth in an egalitarian way, or almost, beings and things are offered here for nothing more than what they are in the strict reality of their physical presence, animated or not: humans, animals, clothes and other utensils thrown in a mêlée in a way close to panic, that evokes the myth of eden because it obviously has for stage a world without morals or hierarchy, where desire is the rule and nothing can be declared precious or repugnant.
An implicit poetry that is sometimes replaced by an explicit poetry: those moments when, above the magma only disturbed by the quest for fulfilment led by each protagonist, human words appear, all the more moving for they seem to emerge – as if by miracle – from a layer of existence in which all words have been abolished."
from the preface by Michel Leiris
"To stretch the powers of one single sentence to the material, divided teeming carried forth through an unrelenting drive. Organic and celestial mechanics, biological, chemical, physical, astronomic. "The natural science will later subsume the human science as the human science will subsume the natural science: There will be one science" (Marx). On the very first page of Eden, Eden, Eden, see that inconceivable theatre: flint, thorns, sweat, oil, barley, wheat, brain, flowers, ears of wheat, blood, saliva, excrement... See the golden space of matters and bodies, endlessly transmutable, rhythmic."
from the preface by Philippe Sollers
Published by Vauxhall&Company, 2017
Softback, 276pp, 206 x 142 mm
Printed on 100gsm Arcoprint Milk & 175gsm Colourplan Laid.
£30.00 GBP
Originally published under the title
Éden, Éden, Éden
Copyright © Éditions Gallimard, 1970
This edition Copyright © Vauxhall&Company 2017
Translation copyright © Graham Fox, 1995 & 2017

Vauxhall&Company Series Editors Paul Buck & Catherine Petit
A hand-annotated limited edition by Pierre Guyotat is also available, priced at £350 GBP. Further details are available on request from Cabinet Gallery (art@cabinet.uk.com).